Looking for SIMS Support?
Then you've come to the right place! Here at Lancashire County Council Education Digital Services, we offer a full range of support services, including support and consultancy for senior management, teachers and office staff, plus a range of technical support options.
We are an Education Software Solutions (ESS) authorised SIMS Support Unit and if your school uses, and is looking for support with, SIMS, then we're here to help! We are happy to offer support services to any school or Multi-Academy Trust.
What can SIMS do for you?
Watch our short video to find out more: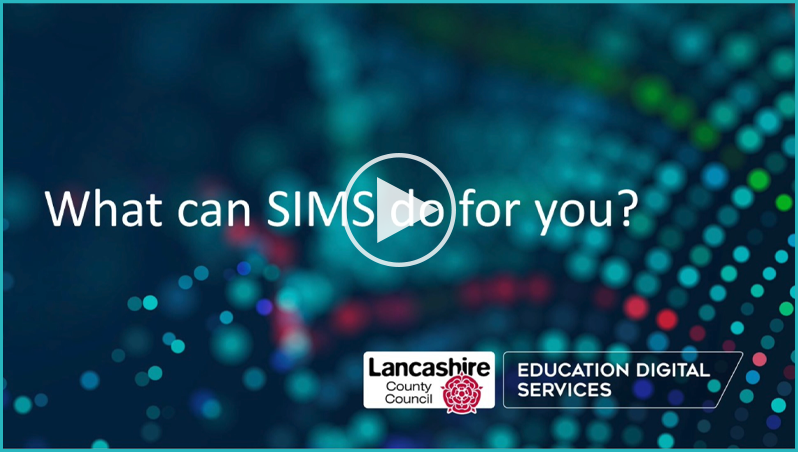 But why choose us?
Here at Lancashire County Council, we pride ourselves on providing a personalised and individual service to all of our customers. We want to help you get the best from SIMS, and we will assist you in every way we can. 
Some of our experts have been supporting SIMS for over 30 years, and the team has a combined total of 151 years working with SIMS! The team have a clear understanding of school requirements based on their previous experience of working in schools and are always on hand to help to provide specialist support to help you make the best use of your SIMS system.
Best of all? The team is always open to welcoming and supporting new schools!
We're not just a Digital Service...
Despite the world going digital and virtual, we are still real people who want to provide you with the personalised service that you and your school require and deserve. 
Many of our services are conducted remotely, however if you do need to see someone in person (because not everything can be done from behind a computer screen!), this can be arranged for you. 
To show that we're a service made up of real people, you can meet some of our friendly and helpful Business Relationship Managers (BRMs) by clicking on the link below:
So, how can we support you?
Our SIMS support encompasses a wide range of services, and we're here to help you with them all!
Here is a list of just a few of the SIMS Support services we can offer to you:

View all SIMS Support services here
For more information on our SIMS Support, please visit our SIMS Software and Administration Systems Support annual services page.
Would you like to find out more?
If you'd like to find out more, and think the support services above would be beneficial to you and your school, then please get in touch with us to discuss what we can do for you!
If you want to request more information, you can always complete our online form.
Alternatively, you can speak to one of our BRMs using the details below!